Here in Norway we aren't a particularly religious country, yet we have managed to maintain the longest Easter Holiday in the world! We have Maundy Thursday as part of our annual spring break, making our Norwegian Easter an enviable five days. Norwegian school children are on vacation and many families take additional days of vacation, pack up their cars and head to a cabin for a long break.
Easter in Norway marks the beginning of spring, and we still have plenty of snow. The days are getting longer, and the warmer temperatures mean you can stay outside longer, plus you don't need to wear quite as many layers to keep warm. Skiing, snowboarding and hiking are all popular outdoor pastimes at this time of year, whilst the evenings are spent relaxing in front of a cosy fire, and observing many of our Norwegian traditions which have been cherished to this day.
If you are planning to join us for Easter in Norway this year, then why not use the links below to help you find the perfect cabin. You will find the first part of Easter is less expensive than the last, and if you can't find what you are looking for, or just want some advice, please contact us, or call us on  +47 32 08 57 10 and we will be happy to help you.
At the bottom of this page we have included some useful dates and information about Easter in Norway.
22. -27. March 2024 - Friday to Wednesday 
Click here to book this period
27. March to 1. April 2024 - Wednesday to Monday 
Click here to book this period
24. - 31. March 2024 - Sunday to Sunday 
Click here to book this period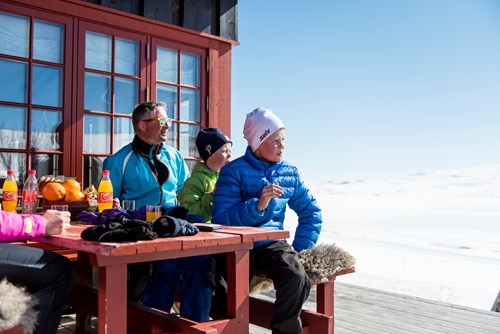 Some things to consider if you are planning to visit for Easter in Norway
Key dates and translations
Palm Sunday – Palmesøndag this is also sometimes referred to as the 1st Sunday
Maundy Thursday – Skjærtorsdag
Good Friday – Langfredag which translates as the long Friday.
Easter Saturday - Påskeaften
Easter Sunday - 1. Påskedag (1st Easter day)
Easter Monday -  2. Påskedag (2nd Easter day)
Most shops in Norway are closed on Maundy Thursday "Skjærtorsdag", Good Friday "Langfredag" or long Friday, and Easter Sunday and Monday. However you will find kiosks, small convenience stores and petrol / gas stations open.  Easter Saturday is not a public holiday and the shops are open.  The trains and buses throughout Norway run a slightly reduced service on public holidays, and if you are planning to travel the first weekend, you should put aside a bit of extra time for travelling, as it is a popular time in Norway to travel.
Would you like to see all public holidays in Norway? Click here 
If you require any help or advice with your booking please contact us or call us on 32 08 57 10