If you are planning on taking a holiday, and travelling around Norway during your stay, there are a few things to bear in mind.  For a start Norway is a very long country stretching over a 1,000 miles from the Arctic Circle in the North to the beautiful sandy beaches around Mandal in the South.  Journeys can be deceptively long, but usually enjoyable because of the stunning and ever changing scenery.  
Norway also has a long and intricate coastline with steep sided fjords cutting right into the landmass which has affected how Norway travel has developed over the years.  Coastal waterways have long been a more convenient way to get from fjord to fjord, rather than over land.  Further inland the areas of rugged and mountainous central land are also divided by deep valleys creating a physical barrier between communities.  
Rather than being heavily reliant on Norwegian roads, which can be expensive to maintain, Norway has developed a range of options that are worth considering when making your plans.
Ferry

 

Bus / coach

Train

Flying

Road
Exploring the Norwegian coastline by ferry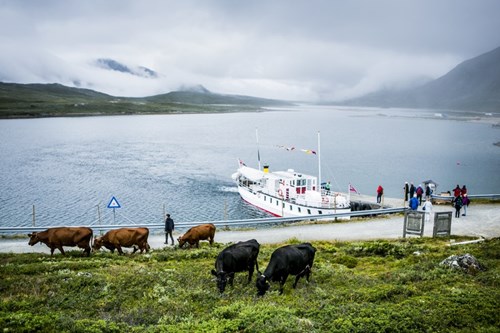 Norway has its roots as a sea faring nation, and has used boats as a mode of transport for centuries.  It has developed an intricate network of ferries along its coastline, and across its numerous lakes and fjords.  From express boats to car ferries, and from long sea crossings, to short island hops, travelling around Norway by ferry is both fun and convenient.  Norwegian ferries are well appointed and comfortable.  They are also a great way to take in the stunning scenery.  Rather than be stuck behind the wheel of a car, you can relax and enjoy the view.   You are not confined to a seat, and you can wander around, enjoy a snack on board and watch the world go by!  Even better, the children will love the adventure!
Below are some of the larger ferry operators and their websites.  We advise travellers to check timetables carefully.   Be aware that many operate separate summer and winter timetables.  In the summer popular car ferries may may be subject to queues, so we recommend you allow plenty of time to get a ticket and board.
Fjord1 for Fjord Norway, Eastern Norway, and Trøndelag
Norled for Eastern Norway, Southern Norway, Fjord Norway, Trøndelag, and Northern Norway
Fjord Line  for Fjord Norway
Rødne Fjord Cruise  Operates in Fjord Norway
Torghatten Nord  for Nordland and Troms in Northern Norway
Bjørklid Ferjerederi  for Lyngen in Northern Norway
Bastø Fosen  between Moss and Horten in Eastern Norway
Travelling around Norway by bus or coach
Norway is fortunate to have a great network of coaches and express buses or bus express!  Every town has a good local bus service and there is a great network of express buses across the country.  The buses are comfortable and efficient and an economical way to of travelling around Norway. Most tickets can be bought online or at the bus station rather than on the bus, and generally you can make savings by buying them in advance.  The national bus services include
NOR-WAY Bussekspress Express bus service covering most of southern Norway
Nettbuss A popular express bus service covering most of Norway 
Lavprisekpressen Budget express bus service that runs between Oslo, Kristiansand and Stavanger
Travelling around Norway by train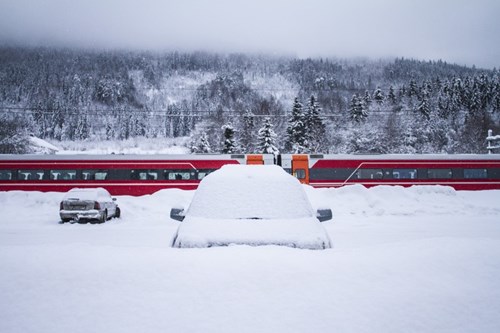 Trains in Norway are mostly operated by the Norwegian State Railway NSB and are a great way to travel. Sit back and relax whilst you are taken through stunning countryside, passing mountains, lakes and fjords.  In fact the Bergen railway, which takes you from Oslo to Bergen, or vice versa, travels across the Hardangervidda and is considered one of the world's best train rides!
The Dovre railway line is another one of the popular trains in Norway to travel on.  It operates between Oslo and Trondheim and affectionately known as the 'trail of the trolls' and passes wide open farmlands, salmon rivers, narrow valleys and high mountain passes.  It is a great way to see the rich cross-section of scenery which Norway provides.
If you wish to pre-order tickets you can do so online on the NSB website up to 90 days prior to departure.  You can also buy tickets from machines at the station and at customer service counters.  You can also buy your ticket on board the train, but you will be charged a surcharge.  It is also worth checking their discounted tickets or 'minipris' tickets which are released by the NSB at least one day before you travel.
Once on board the trains in Norway, you can look out for or expect:
Free wireless internet on most trains

NSB Kafe – drinks and snacks on regional trains

Pre-order food service

NSB Stille – a phone free carriage is available at no extra charge

NSB Komfort – reserve a premium section of the train if you prefer that bit of extra comfort

NSB Sove – sleeping options for overnight journeys

NSB Familie – a section of the train with a play room, movies and books
Flying in Norway
Flying from one part of Norway to another is often a popular option.  For example the trip from Oslo to Trondheim can take over 7 hours by car or rail, whilst there are a number of airlines that offer cheap quick internal flights.  These are especially popular during the winter months when some of the roads through the mountain passes are closed. 
Driving in Norway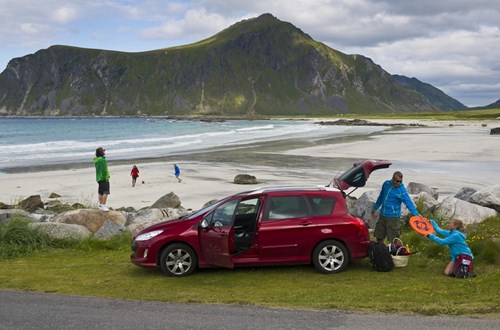 Driving in Norway is perhaps one of the most popular ways to experience the country.  Follow your own agenda, and explore the countryside at your own speed.  Driving in Norway is also very safe and it scores the highest in the world for road safety.  The roads are relatively quiet and in good condition.  Bearing that in mind there are a few things that are worth knowing about:
Norway is a very long country and journeys can be deceptively long so make sure you allow adequate time for your journey

 

There are 18

Norwegian scenic roads

throughout the country so why not make your journey part of your holiday!
Mountain passes / summer only roads

 

– be aware that some higher Norwegian roads may be closed over winter months

Tyres and snow chains

– it is up to the driver to assess whether their car has sufficient grip for the road surface.

 

Most rental cars will come equipped with the correct tyres for the conditions, but it is worth telling them where you are planning to travel to ensure this is the case

Car rental – should be booked in advance, especially in the summer season

Toll roads – many Norwegian roads are toll roads and nearly all of them are automated.

 

Oversees visitors should be aware that many mountain roads do not accept foreign bank cards so it is advisable to carry some cash / coins just in case.

Most hire cars will be fitted with an AutoPass chip which will deduct the payment from your credit card, but it is worth checking this with your hire company

Lights on – dipped headlights are mandatory even in summer

Don't drink and drive when driving in Norway – alcohol laws are very strict

Don't use your mobile phone – doing so is an offence

Go electric! – Norway has a great electric vehicle friendly infrastructure, so why not hire an electric car, especially if you are staying in a city.

Speed limits for driving in Norway are 30 to 50 km/h in residential areas, 80km/h on national roads and up to 120km/h on motorways
If you are planning on visiting and travelling around Norway to see the many varied landscapes of our beautiful country, we hope you have found this information informative.  If you are looking for accommodation during your visit, we have a great selection of cabins stretching from the southern tip of Norway around Kristiansand and Mandal to up near Tromsø in the Arctic Circle.  If you would like any advice on how to build your trip, please do let us know and we will be happy to help in any way we can.