If you are looking for guaranteed snow and stunning scenery, then a cosy mountain cabin in Norway is the perfect way to enjoy a winter break. Spend your days with plenty of fresh air and fun activities such as skiing, ice-skating and good old fashioned sledging. Come back to your mountain cabin in Norway and cosy up in front of the fire with a delicious warm drink.
The staff here at Norgesbooking are experts at arranging log cabin holidays, and Norway winters are also our forte so here are our top tips to make sure your stay goes to plan!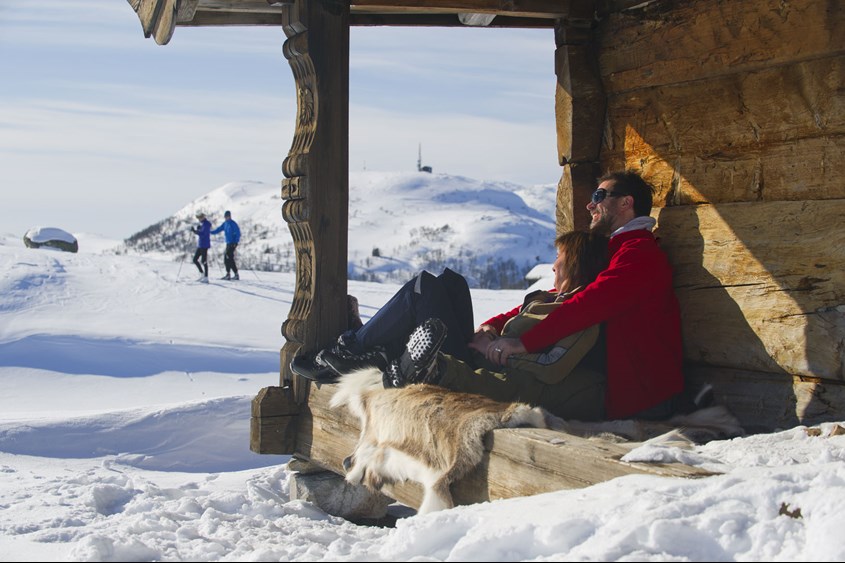 Make the most of the daylight hours
Because Norway is so far north we have lovely snowy winters which makes for an incredibly beautiful landscape, but is also means our Norwegian winter days are quite short. Spend your evenings around the fire, planning the next day's excursion. Enjoy a hearty breakfast before the sun is up (don't worry you will have time) and even make a packed lunch if you are planning to be out all day. As soon as the sun is creeping over the horizon, it is the time to head for the door and get some fresh air. Cross country skiing is a national pastime, so join the locals and get fit as you put in some miles and work up an appetite! If cross country skiing feels too much like hard work, head for the alpine slopes which are beautiful, un-crowded and perfect for families. If you want a bit of variety, arrange a dog sledding ride, or simply spend the day playing outside your mountain cabin Norway. Make a snowman or an igloo, have fun with a sledge or even barbecue some sausages out in the open!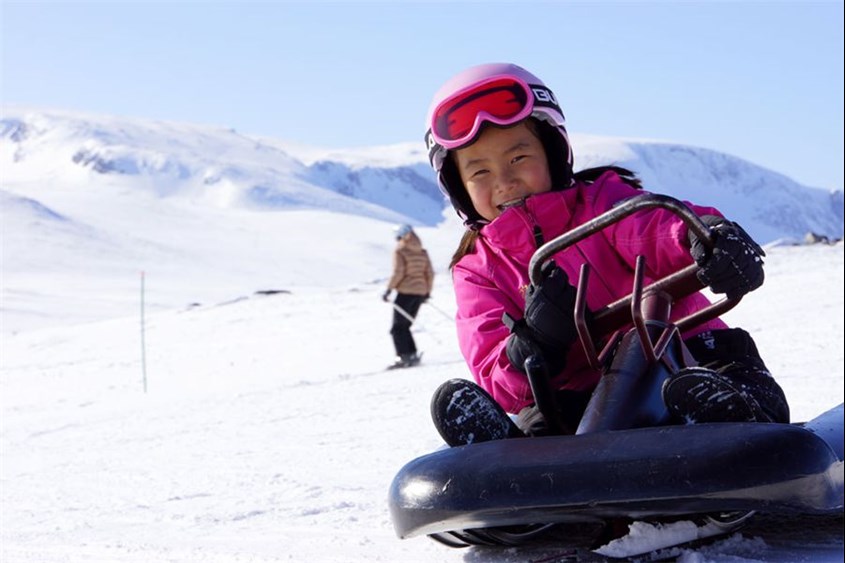 Plan some night time activities too
Night times can provide both fun and romantic opportunities. Make a den, or fill your igloo with candles and blankets for a romantic spot to watch the stars on a clear night. If you are really lucky, depending on how far north you are, you might even see the Northern Lights!
Night skiing is another great way to spend an evening. Most Norwegian ski resorts have a number of ski runs that are floodlit in the evenings meaning you can ski up until 10pm in some cases. Alternatively why no explore the local village, and check out the souvenirs to take home with you? Consider buying a traditional Norwegian sweater or some socks. Not only will they be extremely useful on your Norway winter holiday but they make for a great investment for years to come!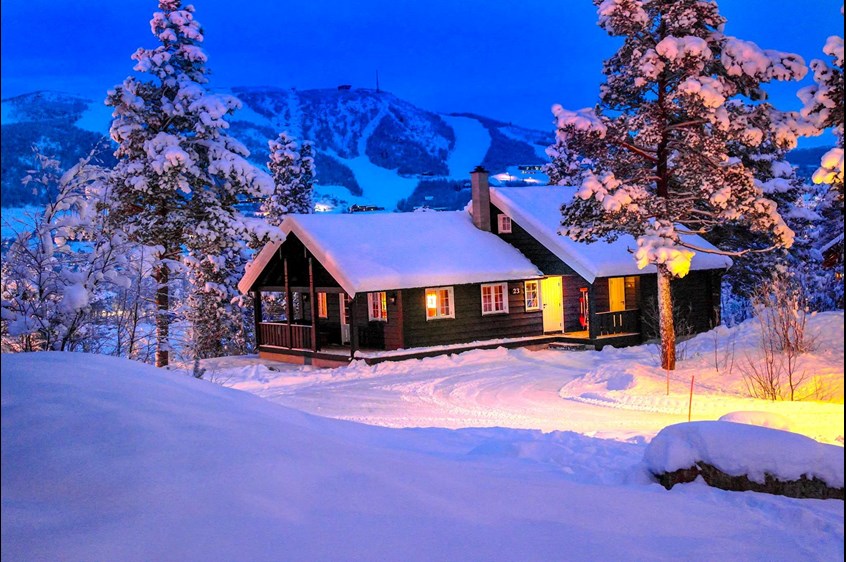 Come prepared
If you are planning a log cabin holiday in a Norway winter then it is best to come prepared! Most Norwegian log cabins are in remote locations and you won't find a host of shops on your doorstep. Stock up on food and drink so you don't have to spend your time with lengthy runs to the nearest shop. Beer can be found in most shops, but if you want wine or spirits you need to visit a Vinmonopolet which have strict opening hours, so make sure you don't get caught short!
If you are travelling by car at all, make sure you have winter tyres fitted, and always carry a blanket, a shovel and some provisions with you just in case!
Pack appropriately
We often get asked what to pack for log cabin holidays in a Norway during the winter and our list includes:
A good hat. One that looks good, but more importantly that fits comfortably and isn't itchy.
Gloves are essential, so make sure you have a pair and even bring a couple of spare pairs if you are travelling with children. They can easily get lost, or might get wet, and little hands especially need to stay warm and dry!
Bring plenty of base layers, thermal leggings and long sleeved vests are a great way to layer up and keep nice and warm.
Wool jumpers are not only stylish, but also keep you warm. One decent chunky knit will serve you well.
A decent pair of winter boots are also essential and consider ice grips if you are worried about slipping on icy paths!
The cold winter air can play havoc with your skin, so make sure you have good moisturiser with you and even more importantly a good lip balm.
A power pack for your phone. You will find your phone battery won't last so long in our cold climes, so it is always good to have back up for those important Norway winter holiday photographs and of course if you need to get in touch with people.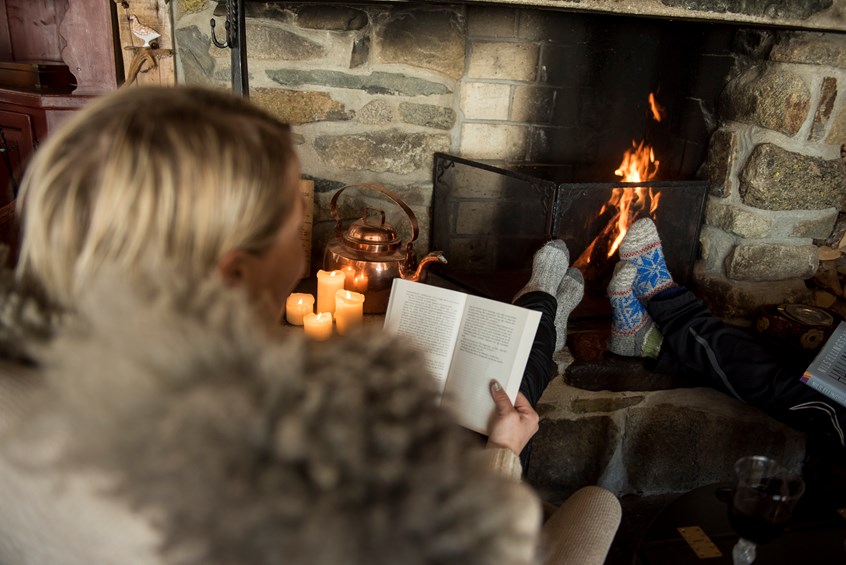 Bring some games and some books to read
Part of the fun of a mountain cabin Norway is cosying up in front of the fire in the evening with a good book, or gathering around the dining table with the family and playing a good game. Make sure you are well prepared. Why not read some Scandi drama such as the 'Boy at the Door' by Alex Dahl or something by the acclaimed Norwegian writer Thomas Enger.
Do your research and stay safe
Let's face it you are visiting Norway for its beauty, but don't get caught out by the extreme weather. If you are driving somewhere plan your journey ahead. Some roads in Norway close over the winter months, so make sure you have your route sorted.
If you are heading out for an excursion make sure you are dressed appropriately. Make sure you know they way, and that someone knows where you are going. Don't forget about those shorter days so plan to return before the light fades.
The team here at Norgesbooking have many years of experience of arranging log cabin holidays in Norway winters, so if you have any questions at all, or would like any advice, we would be only too happy to help. Feel free to call us on +47 3208 5710 or send us a message via our contact page.  And if you are planning to bring a dog with you, then we have some great information on travelling around Norway with a dog.
You can also like us on Facebook for all the latest updates and information about renting the perfect mountain cabin, Norway.